Pet flipping: What? Is this ****ing real?
Some people are horrible human beings. Pet flipping is what horrible, inhumane beings, do for a living: they steal pets and sell them.
Majority of stolen pets, are most likely taken from the streets. Therefore, the easiest ones to steal, are the ones that are allowed to roam around by themselves. Most of the time, pets are taken out of backyards. Safety of all pets should be a concern.
Pet flipping has likely boomed with the growth of social media and has provided the best market place for them.
Pet types that are flipped regularly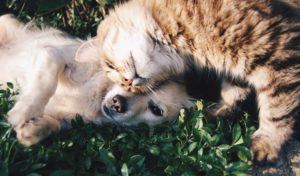 Literally any pet that can get out of your house on it's own is at risk at becoming a helpless victim. Cats and dogs are listed and considered as the most common stolen pets. However, rare and exotic pets (birds, reptiles) have a become popular target.
Purebred types are worth over $2000 TWO THOUSAND!!!! You read that right! 2 grand! I know, I couldn't believe it either.
Why are some people horrible, and doing this horrendous crime?
See above paragraph! There is no shorter answer. Selling stolen pets pays well, and very little work is needed. Therefore, those people browse neighborhoods, look at social media and go for most vulnerable pets. Despicable!  Some pet flippers are just desperate drug users that found a niche market to find quick cash.
Can you prepare against pet flippers? How?
Can't stress this enough, of course: micro-chip.  Because it is cheap tech, and will identify your dog if collar is missing.
Many of the "professional" pet flippers, the most horrible beings, can use microchip machines and could re-progam them to rename the pet and owner. Therefore, pet owners should to get the chip password protected, maybe even encrypted. That could be a more expensive option.
Do not let your pet roam around.  Most pet owners don't do this, only in gated communities. Don't forget, the gates are mostly to keep cars from going in and out as they please. As a matter of fact, most gated communities have areas where anyone can walk in the "gated" community.
Also, install a security camera. Notably, cameras nowadays are cheap and any mobile device can connect to them. In other words, you can keep an eye on your home and pets from anywhere you have internet.
Not to mention, don't ever give away free pets (if you have accidental puppies. Don't forget to spay and neuter). Hopefully if you are breeder, you already know these things and the entire pet flipping scam.
Be friendly and get to know your neighbors. Meet with your neighbors on a regular basis and talk about it. Start a neighborhood watch. That's a real community.
Has your pet has been stolen?
Go on all social media. It's been growing for a reason. Many missing people, and pets have been found using social media platforms like Facebook, Twitter, Instagram together with niche platforms like Traista, Pawboost, Pet Harbor.
Tell the world your pet is missing, post pictures, identifying marks and post daily. Some caution with daily posts: the posts have a high chance of being tagged as spam by social media systems. Therefore the algorithm will not show the posts to almost anyone. Hence, the posts will only be shown to bots (fake programmed software based accounts, not real people. The fake news is just the tip of the iceberg).
Utilize Traista  in addition to other community platforms – Traista is a map based community and very effective for finding lost pets. Sightings can be posted virtually on the map and shared pin posts from the app are visible even to those without the app.
Consequently, keep and eye on social media sales posts.  Most "professional", horrible beings, will take your pet outside your state or county as a matter of fact.
Watch for the term re-home or re-homing. In fact, many people using re-home or re-homing term, is a warning that the person may be a pet flipper.
Report all suspicious activity and stolen pets to the police department straightaway.
With this in mind, look for pet detectives.  As a result of pet theft, they are a growing profession. Just don't hire a pet flipper by mistake!! That can happen and is important to realize. Ask for credentials, referrals, website, etc. Be smart!
If you are a pet detective, Traista app is a free resource that can be very powerful centralized digital solution, used in addition to all others. APIs are easy to integrate.