Birds of prey can snatch a small dog
Reported by AZfamily.com
A puppy in Scottsdale is lucky to be alive after nearly becoming a meal for an owl!
At just three months old, 'Latte' the St. Bernard mix is no small puppy. Right now she weights about 11 pounds, but could grow to be 180 pounds.
Watch the owner speak about it
"She is very sweet, loves to be with people," said Bonnie Ziegler, who is fostering Latte and her siblings.
On March 29th, very early in the morning, Ziegler let Latte outside for a supervised potty break.
"She went around the corner with her brother Oso, and probably went about 10 feet down and never came back," said Ziegler.
Ziegler knows to watch out for coyotes and bobcats that sometimes visit her Scottsdale neighborhood.
"I forgot about the owls."
And like the wind, Latte was gone. Ziegler and her husband searched frantically for hours.
"I didn't hear a sound and the other puppies didn't bark. It was as if she just vanished," said Ziegler.
Later that afternoon, a group of golfers playing across the street from Ziegler's house at Troon Country Club spotted the injured pup, and took her to a vet.
'"She had a collapsed lung. All these puncture marks. Trauma, her face was swollen from trauma."
Latte still has some breathing problems, but she's getting better every day. "It's still kind of unbelievable," said Ziegler.
Now, the gentle giant might forever be a lap dog after her flight with danger.
"She walks where we walk now. She won't go off by herself."
Latte will remain in foster care for a few more weeks.
If you have a missing pet, you should post on Traista App and share the post on Traista USA Facebook Group and this additional FB group.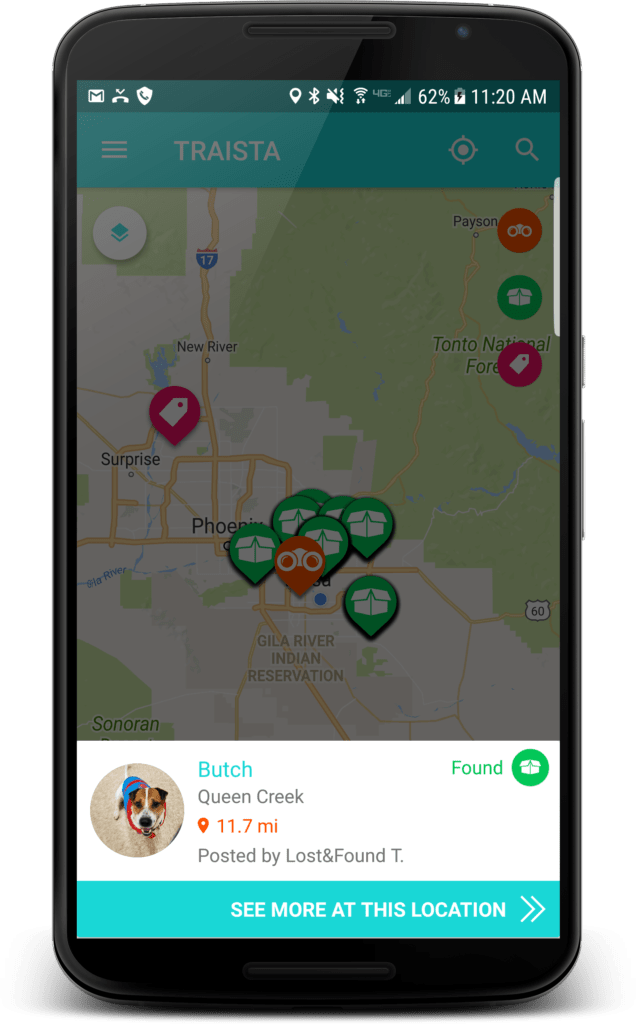 If you run a lost and found pet service, or shelter, our app can talk via an API so we can list all lost and found pets. Reach out to us if you want to post in bulk on our platform.
All pet accessory and food stores, vet offices, shelters, adoption centers, can request free stickers to place on their window, front desk, registers so everyone learns about our free app, that will come in handy to all pet owners when in need.